Yarn Bowls $35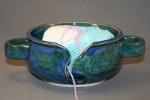 These ceramic yarn bowls are the perfect thing to keep your fiber neat, stable, and in control. The slot-and-hole configuration helps you keep your tension and orientation steady. The sturdy weight of the bowl keeps the yarn ball from chasing you as you work. The smooth glaze and rounded corners help to prevent snags, picks and scrapes.
All prices include US shipping
Available Yarn Bowls
Don't see what you're looking for? Contact Sonya about a custom request. Custom requests require 4 to 6 weeks to complete.