I am sure you have all thought, "Where do the scuttles get made???"
Okay, maybe you haven't but you get to find out!
I work out of a studio that is run by the city.  They offer classes for kids and adults. I enroll in a class, and then get studio time whenever the building is open.  Sometimes my darling 2 year old goes with me some days and "helps" me get work done.  Today she played My Little Pony Memory on the Kindle while I glazed scuttles.
Here is a view of the wheels.  We have 10 Brent wheels.  They are terrific. Behind the wheels is a counter where we can cut and wedge clay.  Above that are shelves for storage.  In the right hand corner is a slab roller and a pug mill.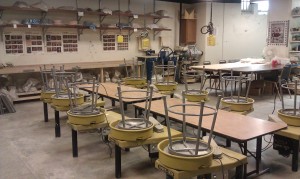 Here we have a view of the tables where we can work, bats, hand-building tools, glaze samples, tools, and other assorted things.  The higher table is great for standing to attach handles and work on things while keeping your back happy.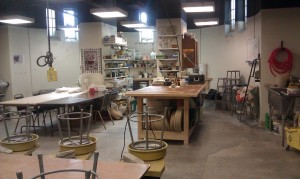 More shelves!  We have finished pieces on the black shelf on the left, more tools for special classes and workshops, and in the right corner we have a bunch of storage for wet pieces.  We cover them in plastic to keep the moisture levels even while we let them dry enough for trimming.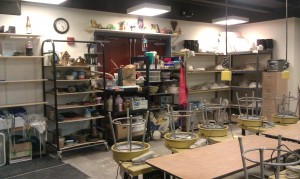 The studio manager promotes cleanliness.  That is not the case in all studios, but we work hard to keep ours as clean as possible.  The studio manager has asthma, and a few students have other health issues.  Clay dust can be harmful to your health, so we work hard to keep the studio very clean.
I hope you enjoyed the virtual tour of the studio.  I love it there.  Pottery is very relaxing to me and a great stress reliever.