So, when you go into the kiln room when you are at the studio, here is what you hope to see: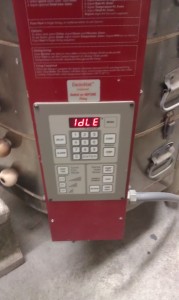 A Happy Kiln!  Everything inside is done and ready to be unloaded.  HOORAY!
This is not what you want to see.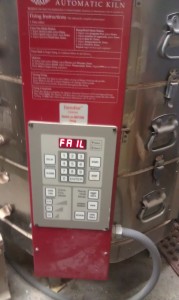 SAD KILN!  Nooooo!  This kiln has between 13-16 of my pieces in it, including all 11 pieces of a special order.  Eeeep!  I about had a heart attack.  The studio manager said this is the messages she gets when the  thermocouple has gone out.  She is so awesome, she got it replaced in about 30 minutes or less. While she had lunch and worked on the sad kiln, I unloaded the happy kiln, which had a load of bisque pieces in it.
Pottery can be stressful at times!  Cross your fingers for me.  I hope everything that is getting refired in the sad kiln comes out okay!  I should know by Tuesday at the latest.