Have you heard of the Empty Bowls project?
The studio where I work on pottery does an Empty Bowls even at our Holiday sale.  Here is the info on that.  The proceeds go to the local foodshelf.
http://www.ladysea.net/blog/twin-cities-artcraft-sale-events/
A few weeknds ago we all got together to throw and trim bowls.  There were 7 of us.  Here are some pictures of our work.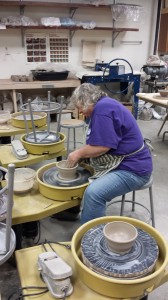 Here is the studio manager working on a bowl.
Some of the bowls we made while I was there.  We threw 103 and after trimming ended up with 101.
A picture of the people who came to throw bowls.  We had a good time.