There are two local events where you can purchase some of the things I make!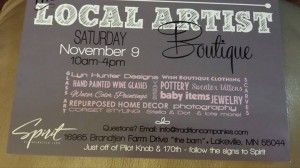 This sale is in a local housing community center.  The building is a refinished barn.  It is beautiful!
***********************************
http://www.ci.lakeville.mn.us/index.php?option=com_content&view=article&id=968&Itemid=1439
This one is at the art center where I do pottery.  We have a student and teacher holiday sale that starts on November 23 and ends December 5th.
Come check out the sales!  It will be fun!